The Location of the Ultimate Fitness Spain Bootcamp is stunning. The Bootcamp is located on one of the three Balearic Islands, on Mallorca, or as some call is Majorca.
Mallorca is in the Mediterranean and the climate is fantastic. This climate and the fact that it's on an island brings warm to hot summers, palm trees, white sandy beaches Mediterranean food, and lots of options for water-based activities.
Also because we are on an island, there is always a nice breeze. and the Bootcamp is located right by the sea. So go Stand Up Paddling, try out kiting, go swimming in the sea, rent a boat, or go for a dive in the weekends.
The Stand-Up Paddle Boards (SUP) are there for you, free to use. Some people are early birds, but even if you are not it's worth going for an early morning sunrise SUP.
Another very exciting activity you can do here all summer is kite surfing or learn how to kitesurf. Every day around 1 pm the thermal wind comes in, and its the perfect wind for kiting. The kite school is just next door, so all very easy. A beginner kitesurf course cost about €390, and you can arrange it locally, because we only start training again in the afternoon at around 6 pm, as the temperature cools down a bit, it gives you time to join this course.
Mallorca is known for the Tramuntana too. The Serra de Tramuntana is a mountain range that runs along the northwest coast of Mallorca With a length of 90 km and a width of 15km at some points, it includes 18 municipalities and covers about 30% of the island's territory. In 2011, the mountain range was declared a UNESCO World Heritage Site in the cultural landscape category. The Serra de Tramuntana definitely deserves a visit during your Stay. Actually, on the on Monday and Friday, we take you on a really beautiful hike to secluded beaches.
We also include rent of Bicycles during your stay and the bike paths are fantastic here. We use bikes to go to the start point of the hikes and you can use them to go to town in the evenings for dinner. But next to that why not visit one of the nearby stunning towns. We would definitely recommend Pollenca. Pollenca is an ancient town of attractive narrow streets and an impressive main square, lined with cafés, restaurants and bars, and is just a few kilometres from Port de Pollensa, where the Bootcamp is located. It is about 10 Km. On Sunday mornings there is a local market which is worth a visit, and also you have Puig Maria, a challenging hour uphill walk to a monastery on Top of the Puig (Hill).
A must-see in Pollensa, the Calvari Steps is an ancient stone staircase leading from the central square up to a tiny church, called the Calvario Chapel. There are 365 steps in the staircase, which leads up to a lovely viewpoint.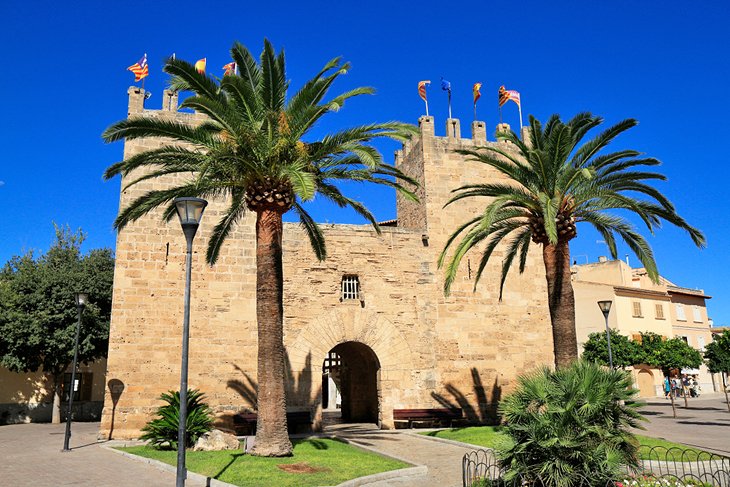 Another town worth a visit is Alcudia Old Town, Just 6 Km from the Bootcamp location, so also perfect for a bike ride. The old town is known for its historical background and is encompassed by amazing dividers and towers which were built in the fourteenth century which are enlightened flawlessly, as the sun goes down.
Our local team has a lot of suggestions for you. We can help you get on a cruise, or rent your own boat. or point you in other directions that might be of interest.
The easiest thing to do is walk or cycle to the sandy beaches of Port de Pollenca. The sea will be warm and there are sunbeds you can rent. There are little beach bars on the beach for if you get thirsty too.
Ultimate Fitness is located right by the sea, in a natural reserve. there is a roof terrace for you to chill and also a big garden with a shaded area where you can hang out. There is free wifi, although of course, it is also very nice to have a chat with others.